Let's face it, our water heaters are just one of those things that we take for granted on a daily basis.  When we wake up in the morning we expect to have hot water for our nice morning showers.  The maintenance of our water heaters is the last thing on our minds and is virtually irrelevant to the mighty list of to-do's we have to get done by the end of the day.  However, when what we have come to expect fails to show and we step foot into an icy shower, are stuck with soap in our hair or wake up to a flood, we know we've got a problem.  How could it be?  Something is wrong with the water heater and it's time to face that dreaded question: to repair or to replace?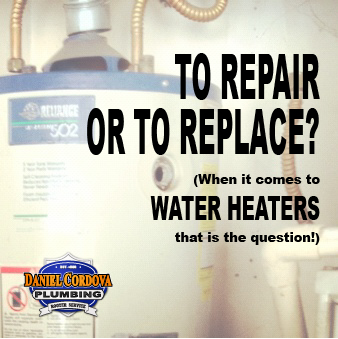 Here are 4 questions whose answers can make this decision a whole lot easier for you:
IS IT STILL UNDER WARRANTY?
If so, then your choice is easy.  Just call the manufacturer and explain the issue.  Often they will easily send you the replacement parts; however you are generally on your own to get them installed.  A local plumber would be more than happy to take care of this for you for a minimum fee.  This should help expand the lifespan of your tank, which leads us to our next questions…
HOW OLD IS THE UNIT?
The average lifespan of a conventional tank water heater is roughly around 7-10 years.  However, this greatly depends on the water quality in your area.  When it comes to the age of your unit and deciding whether to repair or to replace it, it comes down to weighing your options.  We recommend calling a professional and asking for a repair estimate.  Usually the closer your water heater is to its expected lifespan, the more likely it would be in your best interest to replace it, but generally this will lead you to our next question…
HOW BAD IS THE PROBLEM?
Since conventional water heaters are pretty simple devices, there are really only a few things that can go wrong.  For example: the pilot light on gas water heater goes out, the circuit breaker on electric water heater trips, the heating element fails, the thermostat breaks, the valve sticks, a leak springs on the drain valve or temperature/pressure relief valve, or a leak springs on the tank (normally due to corrosion).  While almost all of these cases can easily be repaired by a professional, a leak caused by corrosion in the tank is generally non-repairable and your only option will be to replace the unit.  In all other cases, it will be at your discretion (using the advice in this article of course) to decide whether to repair or replace the unit.  One other piece of advice that might help in your decision, is given by the answer to this following question…
IS YOUR TANK ENERGY EFFICIENT?
Often times choosing to replace your tank with a more energy efficient model may actually end up saving you more money than it would cost to simply have an old unit repaired.  Older water heater units use approximately 17% of the energy in your home.  Newer water heater units nearly cut this usage in half!  This equates to more energy savings and more money in your pocket at the end of each month! With that said, swapping your current guzzler for a new, higher efficient model is definitely an option to consider.
SO NOW THAT WE'VE RUN THROUGH THE DETAILS, LET US REMOVE SOME OF THE COMPLICATION AND PUT IT IN MUCH SIMPLER TERMS:
If your water heater is 10 years or older and is giving you problems, without a doubt: REPLACE IT!
If your water heater is 5 years or younger, replacement should only be considered if the unit requires major repair, otherwise REPAIR IT!
If your unit is between 5-10 years old and is giving you problems, our best advice is to ask yourself these 4 preceding questions and use your good judgment to decide.
We truly hope this article helps, so the next time you're stuck asking yourself this same question, you have a little bit more of an upper hand when deciding what to do!