Dangers Of Tree Roots In Your Sewer Line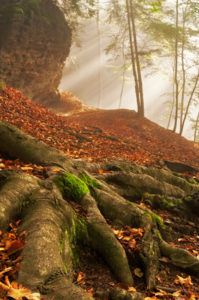 Trees and shrubs are a beautiful addition to any landscape design. They provide shade, color, and can even help to increase the value of a home. Unfortunately they can also cause problems with your sewer lines if not properly maintained. The damage caused by trees roots can be expensive and it is your responsibility to pay for the repairs. Most sewer pipe damage is caused by intrusive tree roots, and can be difficult to detect as the pipes are buried underground.
The home owner is responsible for the underground sewer pipe that connects from the street to the house. Often times warm vapors can escape from these pipes attracting the roots. Over time, the roots can manage to break through the pipe to reach the water and nutrients inside of the pipe. The vapor is usually emitted from loose joints or small cracks in the pipe. Once the roots are inside the pipe, they continue growing. They will form a hair-like root ball that, if left undisturbed will eventually block the sewer pipe. The root ball will trap all flowing debris from the house, and as they continue to grow the pipe will eventually crack, and break.
Slow moving drains and gurgling noises coming from the home's toilets are generally the first sign that your pipes are becoming clogged. A plumber should be called as soon as this is noticed. To help prevent tree roots in the sewer lines, regular inspections should be conducted. Knowing exactly where the sewer pipe is located on your property is also key in helping to prevent root damage. Not planting trees and shrubs with invasive root structures near the sewer pipes will also help prevent costly repairs.
With a little knowledge and regular inspections, you can either prevent or repair your sewer lines with minimal cost. Minor repairs and root removal generally involves the use of augers, pressure washers, and saws which is always more cost effective than replacing your home's sewer lines.
Are you dealing with clogged drains in your West Covina home? Call Daniel Cordova Plumbing at (626) 962-0885 and schedule a service call today!