How To Handle a Plumbing Emergency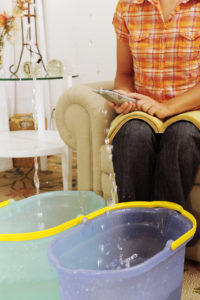 When handling a plumbing emergency, it's important to stay calm. Firstly, you need to get to your water shutoff valve, which should be located in the basement, another secluded warm area of your home or outside of the house. The main valve will be the one nearest the house side, it will have a round handle. Once the handle is located, turn it in full clockwise rotation until it will no longer budge, this means the entire water supply to your home is stopped to prevent more flooding.
Secondly, you need to contain the damaged area by cleaning up the water that has flooded. If you have a utility pump, you can use it to suck the water up. If you do not have a pump, simply put towels down, and if towels are not enough, use blankets. If there is a flood drain nearby, you can direct the water toward the drain with a broom or a mop. Let the ventilation system run on high while focusing fans on the damaged area at full blast. Evaporation is what you're really trying to achieve.
The final and the most important thing to do is call the plumber. Make sure to call a company that is trust-worthy and professional. Local and small plumbing companies are probably your best bet, because they seem to have a better grasp on what customers need on a more personable level, because they are not just looking to make a profit. Once a good plumber is chosen and you have them on the phone, let them know where the leak has sprung and explain the steps you have already taken to sustain further damage. They will give you instructions on what to do until he or she can come to your aid.
After that, it is in the plumber's hands! After the job is completed, ask him or her what steps you can take in the future that may help prevent another plumbing emergency.
Are you facing a plumbing emergency in the West Covina area? Stop and call Daniel Cordova Plumbing immediately at (626) 962-0885.