Meet Daniel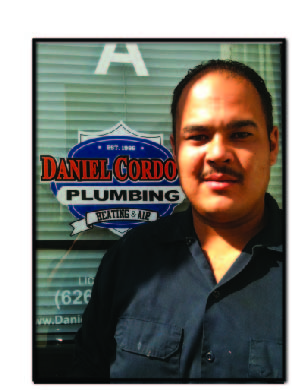 Raised by his father, a plumber of over 30 years, his customers, and the industry, Daniel has been digging ditches since the ripe age of only 10 years old.   He has been trained by some of the top plumbers in the industry, but Daniel's passion for plumbing came from working side-by-side with his father Miguel "Mike" Cordova.  Daniel would go with his dad to work digging ditches every summer.  He loved learning the trade, and after working part-time throughout high school, he graduated and began college, but quickly realized that a formal education was not for him, so he began working full-time with his dad.
All along he knew that wasn't quite his dream, so in 2011 Daniel made his move and went back to get his own plumbing contractor's license, and starting from the ground up, he began Daniel Cordova Plumbing.
"I genuinely love what I do. I get satisfaction from helping my clients get their home or office to a condition that is of the highest quality at the most affordable prices.  I am only satisfied when my clients are satisfied."
His dream is to build his business while still maintaining the high quality and professional service that his clients have come to expect.  Currently Daniel Cordova Plumbing serves both residential & commercial clients all throughout the Greater Los Angeles Area as well as some of its neighboring cities.  We are a full service plumbing, heating & air conditioning company operating 24 hours a day, 7 days a week. Although he is barely beginning to build his business, for now Daniel is working hard at doing what he does best, and living by the vision and values that he was taught by his father, by standing by his word and giving his clients…
"Unmatched Quality Through Traditional Service"
For A FREE ESTIMATE OR TO SET UP AN APPOINTMENT ONLINE
FOR EMERGENCY SERVICE CALL US IMMEDIATELY!
(626) 962-0885
Sign up for our newsletter!
What can we do to earn your trust
To ask questions and express concerns