Boiler Repair & Replacement Services in West Covina
Is the boiler in your West Covina, CA home on the fritz? Call Daniel Cordova Plumbing at (626) 962-0885 and get fast and friendly services today! Or click here and save with our current deals and specials.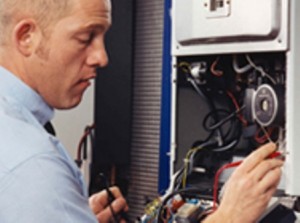 While West Covina, CA and the surrounding areas are not well known for their cold winters, ensuring that your boiler works and works efficiently is an important part of maintaining your home. The majority of boiler and heating systems have the extra benefit or being quite durable and reliable, but no technology lasts indefinitely. It breaks down. It wears out. It malfunctions. And since the majority of us are NOT skilled HVAC technicians performing repairs without the proper knowledge could be dangerous. Call Daniel Cordova Plumbing and get expert repair and replacement services for your boiler!
What Does a Boiler Do for Your Home?
While living in Southern California does not always require the use of a boiler, it is still important to know how it functions. A boiler is a tank filled with water that is heated, or "boiled," to provide your home with radiant heating. As the water is heated it turns into steam and efficiently heats your home during those harsh winters. When the boiler breaks down, it creates a serious issue in your home. Our professional staff can provide your home with efficient and professional repair services today!
What Are Signs of a Damaged Boiler?
Like many of the appliances in your home, boilers break down over time. Some common issues that affect a boiler is rust, cracks, mechanical issues, and mineral deposits. Additionally, you can run into a noisy boiler or worse, a boiler that refuses to heat. While many of these issues can cause a headache for your and your family, finding efficient and professional services should not be. Ar Daniel Cordova Plumbing our expert technicians have a solution for any of your problem. Whether it's a leak or a noise boiler, our expert staff has got you covered.
Boiler Repair Services
When any type of damage occurs to your boiler, there is always the possibility of repair services. From leaks to mineral build-ups your boiler always has an option of repair before replacement. The repairs that must be performed however can be complicated so having a professional service perform these tasks is imperative. At Daniel Cordova Plumbing our expert technicians have the knowledge and tools to provide your home with the necessary repair services to restore your boiler to working condition! Call us today to find out more.
Boiler Replacement Services
If your boiler is beyond possible repair services, your only option would be the replacement of your troublesome boiler. While this could be a stressful situation it could also be a blessing in disguise. When you replace your boiler you can install a higher quality more efficient boiler. In turn this could result in a lower than usual electric bill for your home. At Daniel Cordova Plumbing we offer the latest and best in boiler choices. We can install a boiler that is going to provide your home with even and efficient heating solutions!
How Can Daniel Cordova Plumbing Help With Boiler Repair and Installation Services?
Whether you're installing a new boiler or repairing your old boiler, getting professional services is always imperative. At Daniel Cordova Plumbing we provide high quality repair, maintenance, and installation services, for the boiler in your home. We will ensure that the services we provide are done correctly and professionally. Don't stress about boiler issues, call us today and put your mind at ease!
Don't let a broken boiler ruin your day in the West Covina, CA area! Call Daniel Cordova Plumbing at (626) 962-0885 and get fast and friendly services today!