Excavation can be hard work, especially when you're trying to DIY it. You want to be extra cautious when excavating because of existing plumbing, drain, electrical, cable, and water lines! That's why it's best to contact an experienced excavation contractor like the technicians at Daniel Cordova Plumbing, Drain & Sewer in West Covina, CA. Our experts know what to look for and how to do a clean, professional, and high quality job. You won't have to worry about the difficult parts with our experts doing the work for you!
Root invasion? Call us for rooter service.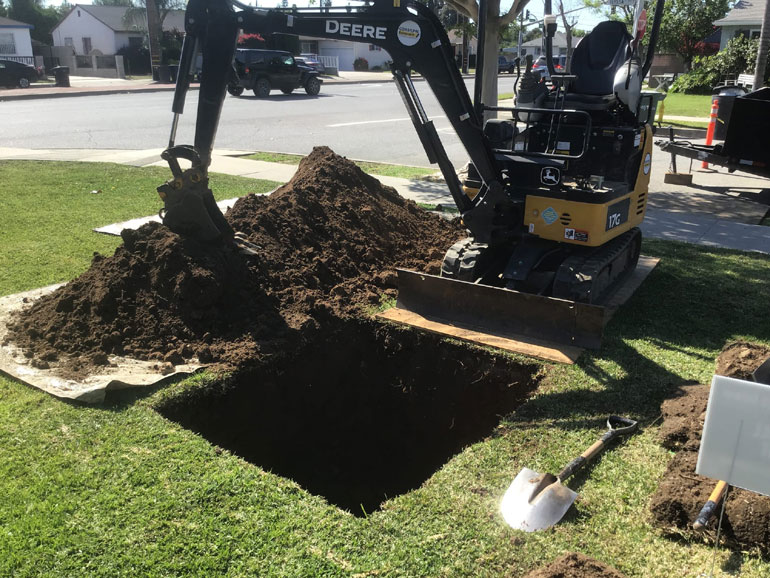 When to Call an Excavation Company
If you're having to schedule excavation services, it's likely because you have some serious plumbing problems, or you're working on a big remodel or addition. If you don't know if you're in need of this service, here are some things to consider before calling us:
The type of pipe you have doesn't support trenchless methods.
The soil on your property is prone to freezing, extreme movement, and other conditions.
You have a blockage that is impossible to clear using other methods.
You have severe root invasion in your pipes.
Severe sewer line problems.
If you're not sure whether you need it, call us. Our excavation plumbers are experts on the subject and can assess your specific situation.
Professional Excavation Company
Digging on your property is not fun or easy. It usually signals a big job ahead. You definitely don't want to attempt a DIY when you're having to do extensive repairs or replacements on your drains or lines underground. When this happens, you want an expert on your side that can complete the job in a professional manner.
When we provide this service, it's usually because all other methods have failed or are impossible. Never worry! You're in good hands, even when the job is a big one. Our experts make digging jobs a breeze and we do our best to minimize any disruption or damage to your property and your time.
Is your water line leaking? Call us for water line repair.
Why Choose Us?
We are your trusted West Covina experts. We go above and beyond every time to ensure that you're 100% satisfied with our services. We do work that is sure to last so that you're not making frequent service calls. We're accurate, professional, and knowledgeable so you can rely on us for your home plumbing services. We offer:
Emergency service
Fixes right the first time
100% satisfaction guarantee
Clear, upfront pricing
Unmatched quality